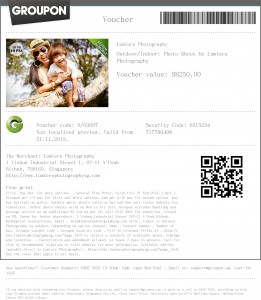 Dear valued clients, please complete this form to make a booking. We will reply (via e-mail) with our available dates/timings/locations for the next 2-3 months. You can then make your photo session selection from there. Due to the peak period, please note that we may take 24 to 48 hours to reply you via e-mail.
*NEW* How does the 20 second Teaser Slideshow work?
Your complimentary outdoor session will include 5 edited soft copy photographs (selected by the photographer) and a 20 second slideshow teaser (in standard definition) by default.
Our team will take the 5 photographs selected by the photographer and insert them (in chronological order) into the slideshow. The result will be a 20 second slideshow with our default template and music.
Please view the following teaser sample:
*NEW* Additional Photo with Slideshow Package
Top up SGD 98.00 (cash only) to receive the best 30-50 photos (selected by the photographer) taken with basic digital editing, along with all of the un-edited JPEGS taken during the session. Your default 20 second teaser slideshow will also be converted to a full 3-4 minute 720p slideshow.
You can select from the two templates that we offer for the 3-4 minute 720p slideshow.
Option 1 (Rustic)
Option 2 (Petals)
Private Session
Top up SGD 250.00 (cash only) to convert your outdoor photo shoot into a 90 minute long Private Session – where a photographer will be sent to a location of your choice. All photos taken during the shoot will be provided alongside an estimated of  the best 50 photos (selected by the photographer) taken with digital editing and returned in soft copy DVD format. (subject to availability– Please e-mail for more details)
Accelerated Editing
Top up SGD 30.00 (cash only) to process your precious images by 7 working days (standard procedure is estimated at four to six weeks). Please inform your photographer ASAP if you would like to take this service.
Additional Pax (over the indicated voucher limit)
Top up SGD 5.00 per head to enhance the fun-factor and increase your maximum head count during your photo session.
TERMS & CONDITIONS
In order to carry out a scheduled appointment, Lumiere Photography requires the client to physically produce a groupon security code via a groupon printout or the iPhone groupon application.
Please note that "stacking" of multiple vouchers for multiple sessions in a single day is not allowed.

Cancellation of appointments must be made at least 7 working days before the scheduled appointment time. Failure to do so may result in a appointment rescheduling or in some cases a complete void of the photography session coupon.
Please be 10 minutes early for your scheduled appointment as latecomers will not be compensated for time lost.
Please be reminded that Lumiere Photography Singapore will not accept any responsibility for claims, demands, injuries, loses, costs, expenses and/or liabilities of any kind whatsoever suffered, arising from or in connection with any transactions or dealings with the photographer/s and the coupon holder and/or customer/s.
Lumiere Photography Singapore holds and reserves all rights to the photos which are taken by Lumiere Photography Singapore (unless otherwise stated).
Lumiere Photography Singapore holds and reserves all rights to change the appointment or timings of the photography session in the event of unpredictable circumstances such as bad weather.
Lumiere Photography requires roughly 4-6 weeks or more after the actual appointment day to digitally edit and process photos.
Lumiere Photography reserves the right to change the price of services, itinerary, schedule and locations due to any unexpected operational reason(s) that may occur.